Course overview
Welcome to HFCUniverse for High School Students
Spend some quality time with Seth as he gives you a crash-course in everything Alz. In just an hour, you'll earn some cool badges, unlock amazing content, and have the info you need to fight dementia. Your brain will thank you (and so will Seth).
Seth Rogen answers YOUR questions about YOUR brain.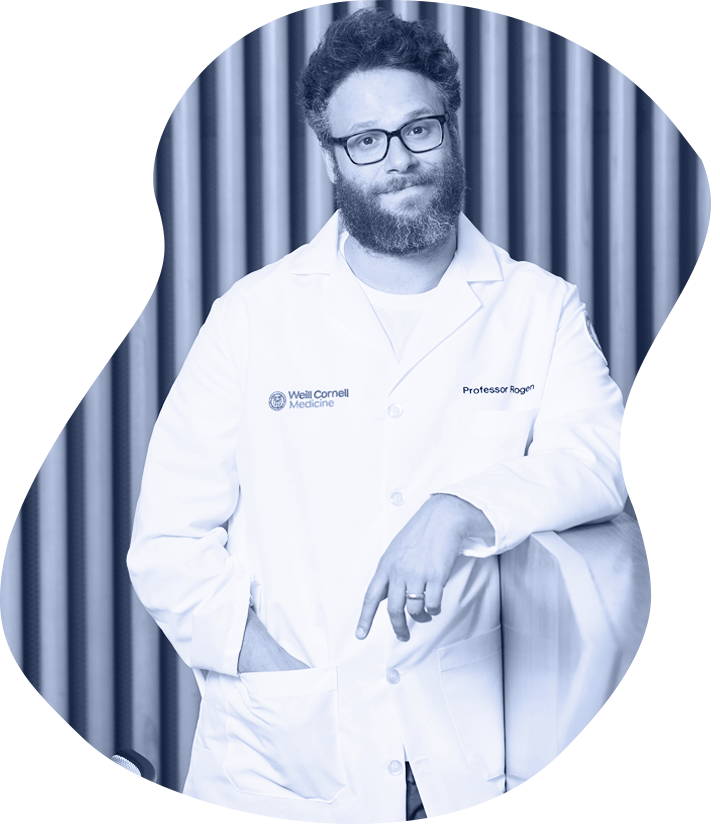 YOU: Alzheimer's is genetic - if you're gonna get it, there's nothing you can do, right?
SETH: WRONG!! Though there's still no cure, there are some basic lifestyle changes you can do that will change the trajectory of your brain's future.
YOU: Sounds great, I'll bookmark this page and check it out when I'm old.
SETH: Sorry, but no. The bad news is that Alz starts affecting the brain 20-30 years before people see a symptom. Sucks, I know.
YOU: So... is there good news?
SETH: There definitely is good news! It's that there are real, scientifically-proven ways of reducing your risk of getting dementia. And they don't involve doing 20 hours of yoga a day or eating nothing but raw wheat. They're simple things like eating blueberries, reducing stress and getting more sleep. I mean, how hard is sleeping?
YOU: I'm in. What do I do?
SETH: You've taken the first step just by reaching this page. Stick with me, and I'll teach you some basic facts about Alz, how you can reduce your risk of getting it, and what you can do to strengthen your mind's defenses. It's as easy as ABC, which in our case stands for Alzheimer's Brain Care.
Meet the instructor
Seth Rogen
Seth Rogen is an actor, writer, producer, director, entrepreneur and philanthropist whose films and TV projects have had an impressive impact on popular culture and box office returns. As an actor, his films have grossed over $930 million worldwide and as a filmmaker, his global box office success exceeds $850 million. Alongside longtime collaborator Evan Goldberg, Rogen produces film and television projects through their production company, Point Grey Pictures. Seth is also a co-founder and board member of HFC, a leading national advocate dedicated to raising awareness, inspiring change, and accelerating progress in Alzheimer's care, research, and support.
About HFC
HFC cares for Alzheimer's family caregivers, drives awareness and inspires change with our brain health education.
Brain Health
HFC will reduce dementia by helping people build a more Alzheimer's-resistant brain.
HFC Programs
HFC connects experts with caregivers to provide support and programs for families affected by Alzheimer's
Events
HFC signature events entertain and inspire as they raise funds to support our care programs.
Alzheimer's Advocacy
HFC promotes policies and research supporting Alzehemer's and caregivers.
Great to see you here!
Let us bootstrap your career!